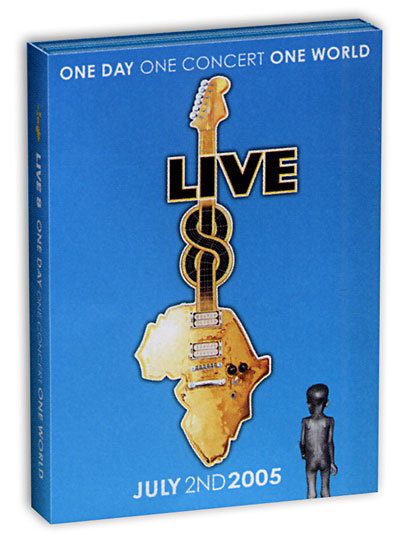 Preview Live8 Snap Count Philadelphia 2005 MySpace :



Live8 Snap Count Philadelphia 2005 MySpace.html


Live 8 International - Coffret

Un jour, un concert, un seul monde - Concerts du 02 juillet 2005
De Compilation pop rock
DVD Zone 2 (4 volumes)
Expédié sous 24h




ONE CONCERT
TWO MILLION SPECTATORS - THREE BILLION VIEWER
Paul McCartney - ColdPlay - Snoop Dogg - Green Day - Destiny's Child - James Brown - Bryan Adams
The Killers - The Who - Brian Wilson - Pink Floyd - Razorlight - U2 & Bono - Velvet Revolver - Bob Geldof
Muse - Stereophonics - Dave Matthews Band - Jet - Def Leppard - 1 Giant Leap - Keith Urban

THE SHOW THAT ROCKED THE WORLD
Madonna - Richard Ashcroft - Ms Dynamite - Linkin Park - Roxy Music - Elton John - Youssou N'Dour
Maroon 5 - Kanye West - Placebo - Sting - Jay-Z - Dido - Robbie Williams - Annie Lennox - Black Eyed Peas
Good Charlotte - Rob Thomas - Texas - Bjork - Travis - Midge Ure - Jars of Clay - Will Smith - UB40

THE GREATEST GIG OF ALL TIME
Faithless - Stevie Wonder - Pet Shop Boys - R.E.M - The Thrills - Joss stone - Duran Duran - Audio Slave
Mariah Carey - Pete Doherty - Vusi Mahlasela - The Proclaimers - Snow Patrol - Wet Wet Wet
Katherine Jenkins - Dreams Come True - Bon Jovi - Sarah McLachlan - Josh Groban - George Michael

THE CONCERT OF THE CENTURY
Keane - Neil Young - Kaiser Chiefs - Faith Hill - Tim McGraw - Rita and Stephen Marley - McFly
Scissor Sisters - Neneh Cherry - Daniel Powter - Toby Keith - Alicia Keys - Shakira - Will Young

Citation:

Le concert du Live 8 à Hyde Park le 2 juillet 2005 était l'endroit où il fallait être pour comprendre le monde et le fait que le rock et la pop peuvent altérer les décisions des dirigeants de ce monde. Et que tous ces musiciens rameutés par Bob Geldof sont globalement de braves gens sensibles aux causes que leur notoriété peut contribuer à défendre. Le coffret Live 8, conçu pour être déposé au pied du sapin, abrite quatre galettes. Les trois premières sont consacrées au concert londonien à la distribution prestigieuse (McCartney, U2, Colplay, REM, The Killers, Snoop Dogg, Velvet Revolver, The Who, Pink Floyd…) et à des extraits de concerts des autres villes (Muse et Placebo à Paris, Brian Wilson et Roxy Music à Berlin, Neil Young à Toronto…). Le troisième DVD s'achève par un "Hey Jude" grand comme l'âme des gens restés à Hyde Park jusqu'au bout du show et de la nuit.
Le quatrième propose, en guise de bonus, un documentaire tourné backstage à Londres, les répétitions de Pink Floyd (le set événementiel du Live8 ) et d'autres extraits de concert parmi lesquels Björk à Tokyo, ainsi qu'une poignée de vidéos.